Allow Us To Share Our History With You.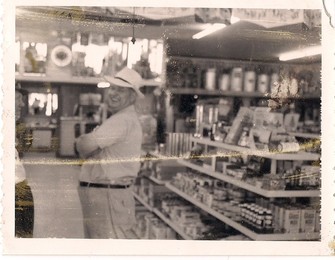 Robert S. Floyd (Bob)
Robert S. Floyd (Bob) and son Malcolm Floyd founded Floyd Hardware in 1947. Chrisman Hardware in Chattanooga formerly employed Bob and his son Malcolm had just returned from service as a pilot during WWII. They studied two locations: St. Elmo, a community at the foot of Lookout Mountain - and Daisy - a community approx. 15 miles north. Daisy was the choice. That community has since joined with their sister city Soddy to become Soddy Daisy. The first location was sufficient until the early 1950's when the building expanded to accommodate the growing area. At that time hardware, building supplies, electric appliances, housewares, sporting goods and toys were available. The business operated with four employees. Some building materials like sheetrock, cement and lumber were delivered to the business by rail. The depot was about a mile from the store. Purchases were off loaded to a flatbed truck owned by Floyd Hardware and then off loaded again to stock on site. The company truck was also used to make local deliveries. Robert M. Floyd, son of Malcolm, worked summers while in high school and came into the business full time in 1967.
---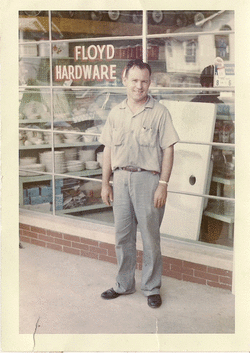 Malcolm Floyd
In 1979 Floyd Hardware moved to a new building approx. 1 mile north. The property was formerly the home of Mifflin-Hood, a clay tile manufacturer. The property is at the foot of Montlake Mountain. Ingredients for the tile were transported down the mountain in buckets on an overhead cable system. Remnants of broken tiles can still be found on the property. One of the buildings used in manufacturing is still used today for a shop and storage.

---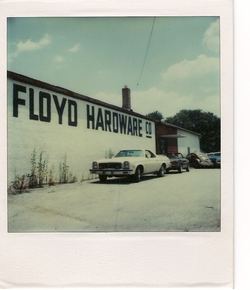 The First Floyd Hardware Building
The front of the 1979 building was remodeled in 2005 with an old west town theme. Today hardware and building material are the concentration. House wares, sporting goods and toys are no longer sold. At present there are six full time and 2 part time employees.



Current Generations working at the Hardware now Robert Floyd1967; Candice Floyd 1979; Eddie Nelson 1985; Ernie Nelson 1992; Melissa Nelson 2001; Ben & Jacob Nelson summers since high school. Five generations have operated the hardware store for 64 years.
---
- Floyd Hardware